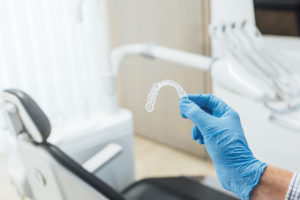 Perhaps you want to straighten your teeth, but you aren't sure if Invisalign is right for you. After all, it might seem inconvenient to visit your dentist for periodic checkups, and perhaps you are concerned about cost as well. You might be wondering if an at-home clear aligner system might be the better option for you. Read the information below before you make your final decision. We're confident that you'll decide Invisalign in Metairie is the better choice!
Effectiveness
Invisalign is effective because it uses state-of-the-art technology from the beginning to the end of the process. Whether Dr. Nelson is analyzing your teeth, you are previewing your potential results, or Invisalign is fabricating your aligners, you have the best of modern technology on your side. Plus, since Dr. Nelson has such an in-depth knowledge of how the teeth work and how they should move, you are practically guaranteed to enjoy outstanding results.
With at-home orthodontics, it is a different story. It is almost impossible to create accurate aligners based on an impression you take at home. Therefore, the aligners you receive may be extremely uncomfortable and not very effective.
Safety
Invisalign is a low-risk treatment because the precision aligners are custom-crafted to deliver results without damaging your teeth. Moreover, Dr. Nelson and our team will be there to support you throughout your treatment period. We want to form a personal relationship with you, and your satisfaction and safety are among our top priorities. Any time you have a question or concern, we are ready to help.
At-home orthodontics are much less personal in nature. The companies that provide them may have a purely transactional relationship with their customers. Even more disturbing is that the aligners have a much higher risk of causing oral damage. Gum recession, loose teeth, and damaged tooth roots are all possible outcomes of at-home orthodontics.
Cost
It is true that at-home orthodontics cost less than Invisalign. However, the money you save by getting your treatment right the first time may make Invisalign more affordable in the long run. Plus, Invisalign may be easier to fit into your budget than you thought! Come visit us for our Invisalign Week November 18 – 21. During this special event, you can enjoy:
A FREE Invisalign consultation
$500 off the total cost of your treatment
Free whitening gel with treatment
24-month interest-free financing upon approval of credit with CareCredit (must pay off your balance within 24 months to avoid paying interest)
Would you like to straighten your teeth in Metairie? Say no to at-home orthodontics and visit our friendly, professional team instead. We look forward to caring for your smile!
More About Dr. Nelson
Dr. James Nelson is an accomplished dentist in Metairie who is proud to be a preferred Invisalign provider. He loves to help his patients feel comfortable in his office and confident when they show off their smiles. If you would like to learn more about Invisalign, or if you are ready to schedule a consultation, contact our team at 504-887-3311.