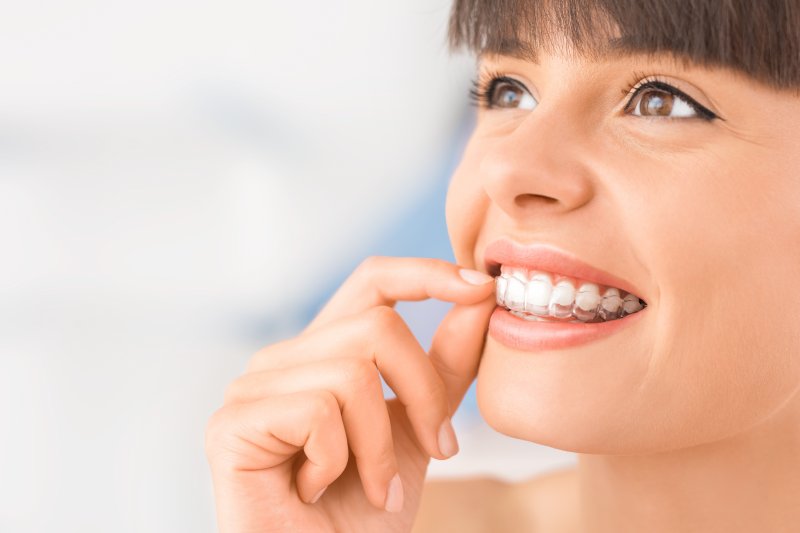 Many people are hesitant to have their bite corrected once they become an adult. One of the reasons for the apprehension is that they don't want to wear metal braces that draw unwanted attention to their teeth. If you're in the same predicament, then Invisalign in Metairie provides an excellent alternative. As you continue reading, you'll discover how the procedure works and get a general idea of how long treatment takes. Once you're informed, you can then move forward with achieving the smile you've always wanted!
The Invisalign Process Explained
Instead of relying on metal brackets and wires to fix gapped, crooked, misaligned or crowded teeth, Invisalign aligners apply gradual pressure to gently guide your ivories into their correct position. The process starts with your dentist performing a thorough bite assessment to make sure the procedure will work for you. Then, using the latest in 3-D imaging, he or she will map-out a full treatment plan and send the information to a certified Invisalign lab for fabrication.
In a few weeks, you'll return to retrieve the complete series of clear-plastic aligners, and you'll wear each set for around two weeks. With each exchange of the trays, you'll be moving a step closer to a more functional and completely revamped set of teeth.
How Long Does Treatment Take?
One of the major perks of Invisalign treatment is that it normally takes less time to complete than traditional braces, which average around 24 months. The precision design protocols utilized to craft Invisalign can, in some cases, cut the treatment time in half. However, it's impossible to get an accurate picture of how long the process will take for you without first undergoing a thorough examination.
What Can Have an Impact on Your Treatment Time?
While you'll need to visit your local dentist to find out for sure how long your treatment with Invisalign will take, here's what you can do to ensure you stay on schedule:
Wear the aligners for at least 20-22 hours per day to prevent any regression.
Be sure to remove the aligners before eating or performing oral hygiene to prevent damage.
Properly clean your teeth and aligners to prevent any dental health issues that could slow down your progress.
When you visit your cosmetic dentist in Metairie, you may be pleasantly surprised to find out that treatment time with Invisalign may be shorter than what you're anticipating. What's most important, though, is for you to achieve substantial and lasting results, which are two things that you can definitely count on with Invisalign!
About the Author
Dr. James Nelson earned his dental degree from the Louisiana State University School of Dentistry in New Orleans. A member of the Academy of General Dentistry, he has also gone on to become Invisalign certified. Dr. Nelson helps patients achieve beautiful and functional smiles with Invisalign at Nelson Dental Care, and he can be reached for more information through his website. –