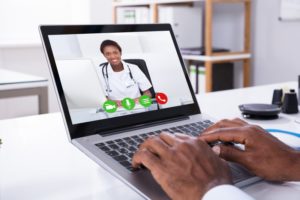 Over the last month, countless states and counties have issued public statements to avoid going to public places and coming into contact with others to prevent the rapidly increasing spread of COVID-19. This shift in day-to-day life has caused many businesses to adapt in an effort to stay open as well as keep their staff and patients safe. COVID-19 has sparked the emergence of teledentistry, which is virtual dental consultations and care to help determine whether an in-person treatment is necessary. Read on to learn more about virtual dentistry and how it works.
Why Virtual Dentistry?
Even before the COVID-19 pandemic, more and more patients started using virtual healthcare services because of the convenience. Today, teledentistry has an entirely new purpose and meaning—to keep patients and dental professionals safe from infection while preventing oral health problems from getting worse. It's estimated that about 54 percent of the world's population has access to the internet, and by making dental services both virtual and in-person, they can be more accessible.
Whether you have a smart phone with video features, laptop, or a tablet, access to a trained and knowledgeable dentist in Metairie can be right at your fingertips without putting you in a risky situation. Although your dentist is following CDC standard precautionary guidelines, virtual emergency consultations allow them to treat for the treatable over video and address any serious problems in-office, reducing the amount of foot traffic to their practice.
How Can Teledentistry Help Patients?
Teledentistry offers a variety of benefits for patients. Among the most obvious advantage is that you won't have to go into a public space during the COVID-19 epidemic unless it's absolutely necessary. Some other benefits include:
Fast Assessment: Patients can easily send photos or a video in to be assessed by their emergency dentist. If further examination is needed, the dentist can consult existing dental records or request an in-office meeting.
Quick Pain Relief: For pain relief, dentists can prescribe a medication or provide virtual remedies.
Treatment Monitoring: A cost-effective way to monitor how a treatment is working.
Safe & Highly Effective: Many insurance companies are including teledentistry in their coverage. Virtual visits also make dental professionals more accessible to rural and underserved populations.
What Services Can Be Provided Virtually?
Due to the COVID-19 pandemic, many people are utilizing virtual dental consultations to address emergency situations, such as tooth pain, bleeding, and dental damage. Here are some additional teledental services that can be provided during these times:
New or existing patient consults
Invisalign consult
Cosmetic consult
Implant consult
BOTOX consult
After your virtual emergency consultation, your dentist in Metairie will determine whether it's necessary for you to come to the office in person. There, they'll provide you with any urgent treatment or services you need to get your oral health back on track. During these state-wide Shelter in Place orders, most dentists are suspending all non-emergent in-person treatments.
About the Author
Dr. James Nelson is passionate about providing high-quality emergency dental care to his community in Louisiana. He is certified in oral conscious sedation as well as Invisalign and regularly completes continuing education courses to advance his knowledge and sharpen his skills. He is also an active member of several professional organizations. To schedule a $49 virtual consultation, visit our website. You can also call 504-887-3311.