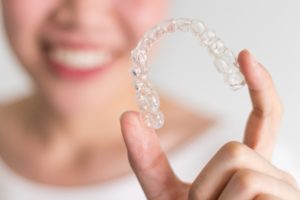 Did you know that it's never too late to invest in a straight smile? Although braces are often viewed as a treatment for juveniles, 1 in 5 orthodontic patients are now over the age of 18. The increase in adults seeking treatment is attributed to less noticeable options for braces, like clear aligners. One of the most appealing benefits of Invisalign is its nearly invisible appearance, but aesthetics aren't the only reason adults are choosing it as an alternative to metal braces. Here are 5 other advantages you can enjoy with clear aligners.
1. Quick Results
The average treatment duration using traditional brackets and wires can take 2-4 years to complete. Invisalign offers quicker results. Most patients are finished with their series in about 12 months, depending on the number of aligners required. There are factors that influence the length of your treatment, like to complexity of your case. Generally, you can expect it to take longer if you have significant alignment issues. It's best to follow your dentist's recommendations correctly to ensure there aren't any unnecessary delays added to your plan.
2. No Dietary Restrictions
You don't have to avoid your favorite meals when choosing Invisalign. There are several foods you can't eat if you have metal braces, like popcorn, but there aren't any dietary restrictions with clear aligners because they are removable. It's best to take your aligners out if you have anything to eat or drink besides water. Before placing them back into your mouth, brush your teeth and rinse your aligners with water.
3. Easy Oral Hygiene Routine
You don't need to worry about brushing and flossing around brackets or wires. Since the clear aligners can be taken out, your oral hygiene routine is virtually unchanged. Simply brush and floss as you normally would; however, don't forget to clean your aligners. It's best to use a soft-bristled toothbrush and clear antibacterial soap to prevent them from losing their transparency.
4. Comfortable
Your aligners are made from a plastic material, so there won't be any irritation to the inside or your lips or cheeks. Many patients report Invisalign to be more comfortable than metal braces because the aligners are smooth. Not to mention, they have a snug fit, so you don't need to worry about them slipping when you speak.
5. Affordability
Despite what you may have heard, Invisalign is affordable for patients from all walks of life. Although every policy differs, many dental insurance plans can help offset the cost while your dentist also offers financing options to align your teeth without draining your wallet.
If you're ready to invest in a straight smile, benefit from the clear choice in orthodontics. See if you're a candidate for Invisalign.
About Dr. James Nelson
Dr. James Nelson has been selected as one of the "Top Dentists" from 2016 to 2020. Besides earning his dental degree, he has undergone advanced training in many areas of specialty, like orthodontics. He is a certified Invisalign provider. If you are interested in clear aligners, contact our office today to schedule your consultation.