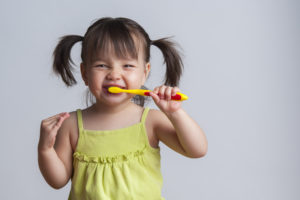 Did you know that February is National Children's Dental Health Month? Healthy teeth and gums are essential as your child's precious smile and oral hygiene habits grow. With the right tools, not only can you make their brushing and flossing more effective, but you can make it engaging and exciting as well! Getting your child to have fun while caring for their pearly whites can make a huge difference in how well they maintain their oral health for the rest of their life. Here are some fun products to try out this National Children's Dental Health month to keep those smiles happy and healthy!
Tasty Toothpaste
Get your child excited to brush their teeth by shaking up their mint-flavored dental routine! Toothpaste for children comes in a wide variety of styles to make keeping those pearly whites clean more fun for your child. As long as the product has the ADA Seal of Approval, consider trying:
Tasty toothpaste: Does your child not like the flavor of mint? They may enjoy vanilla, chocolate, bubblegum, or other fun flavors of toothpaste instead!
Sparkly toothpaste: Some toothpastes contain edible sparkles or fun colors to help add some pizzaz to toothbrushing.
Desensitizing toothpaste: If toothbrushing is uncomfortable for your child because they have sensitive teeth, a desensitizing toothpaste for kids can help address their discomfort.
Electric Toothbrush for Kids
Electric toothbrushes aren't just for adults! In fact, there are models designed for children starting as young as three years old all the way to 12 and older! These electric brushes are smaller and lighter so that they can easily and comfortably fit into a child's small mouth. Options for very young children have popular cartoon characters on them, while others have fun lights or sounds to help children brush for a full two minutes.
Fun-Flavored Floss
It's no secret that not many kids like to floss — not many adults do either! Thankfully, there are lots of ADA-approved flossing aids that can help your little one get into the habit of flossing daily, like:
Fun-flavored floss: Sometimes, simply using a floss that's flavored like watermelon, citrus, cupcake, or a different fun flavor is enough to get children excited about flossing!
Pre-threaded flossers: Flossing can feel difficult and awkward. Pre-threaded flossers take out the hassle of wrapping floss around your child's fingers and having fingers in their mouth to reach the back teeth.
Platypus flossers: If your child has braces, a platypus flosser can make all the difference! These specialized flossing tools are designed to make flossing between wires and brackets easier.
Remember, the dental hygiene habits you teach your child now can impact how they care for their oral health for the rest of their life. Now is the perfect time to try some new dental products to make keeping that precious smile healthy and clean a bit more fun!
About the Practice
Dr. James Nelson has been providing outstanding dental care for smiles of all ages in Metairie and the surrounding communities for many years. He is truly passionate about helping his patients achieve and maintain optimal oral health, which is why he offers a range of specialized services for both older and younger smiles. With a combination of personalized preventive care for children and patient education, he loves to make sure that little smiles are healthy from the start. To learn more about children's dentistry, he can be contacted via his website or at (504) 887-3311.