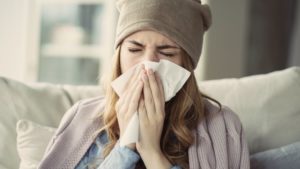 It's hard to be excited about the fact that spring is in the air when you know it will just make your eyes itchy and your nose runny. Unfortunately, constantly blowing your nose isn't the only thing you have to worry about. Believe it or not, high allergen levels can also harm your smile because seasonal allergies can directly affect your dental health. Here's what you need to know about protecting your smile while dealing with seasonal allergies.
What Causes Seasonal Allergies?
Trees and grass pollinate every spring and fall, leaving substances in the air that may irritate your upper respiratory tract. Ragweed, dust mites, mold and more can trigger an immune system response that includes symptoms like coughing and nasal congestion. Not only are these issues annoying, but they can have serious consequences for your smile.
How Do Seasonal Allergies Affect Dental Health?
Seasonal allergies, also known as hay fever, can result in a variety of symptoms, including sneezing, irritated gums, and an itchy mouth, throat, or nose. If your nose is congested, you may have to breathe through your mouth. However, mouth-breathing can easily decrease saliva production. Insufficient levels of saliva make your mouth an ideal breeding ground for bacteria that contribute to cavities and gum disease.
Additionally, post-nasal drip can lead to toothache-like symptoms. The excess mucus production might exert pressure on your sinuses. Since the sinuses are right behind the roots of your upper teeth, it may feel as though you have tooth pain.
Tips for Protecting Your Smile
There are a few things you can do to relieve your allergy symptoms while also safeguarding your smile from potential harm:
Take antihistamines – Taking prescribed or over-the-counter allergy medications can alleviate your symptoms and prevent oral health problems.
Stay hydrated – Drink plenty of water throughout the day to stimulate saliva production and decrease the number of bad bacteria in your mouth.
Gargle with saltwater – Let a tablespoon of salt dissolve in a glass of warm water. Gargling with the solution will reduce irritation in your mouth and throat as well as draw mucus out of your sinuses.
Brush and floss – Keeping your teeth clean will minimize the risk of bacteria accumulating on your teeth and gums.
Contact your dentist – Make sure you're visiting your dentist twice a year for a routine checkup and cleaning.
If you have concerns about seasonal allergies and dental health, don't be afraid to reach out to your dentist. They can help you come up with a personalized plan to keep your teeth and gums healthy during allergy season and beyond.
About the Author
At Nelson Dental Care, Dr. James Nelson helps patients in Metairie, LA maintain healthy smiles they can feel confident sharing. He earned his Doctor of Dental Surgery degree from the LSU School of Dentistry in New Orleans and has since become certified in oral conscious sedation and Invisalign. For more advice on protecting your smile from allergy-related dental issues, you can contact Dr. Nelson via his website or by calling (504) 887-3311.